In this article I'm going to share with you 21 pescatarian crock pot recipes that will make cooking super easy, whether you're meal planning or just in the mood for something delicious.
If you're like me, you've likely spent ages trying to find good slow cooker pescatarian recipes that aren't a bit dull and tasteless.
Lucky for you though, I got so frustrated from all my searching that I kept an ongoing list of meals that met the standards of my tastebuds!
By the way, if you haven't already got one, here are a few highly recommended slow cookers available on Amazon:
Here for your viewing and tasting pleasure and without any further adieu are my 21 favourite pescatarian slow cooker recipes including stews, boils, lasagna, soups, chowder, and more. I'll likely be adding to this list and I come across more pescatarian crock pot meals in my searching.
Fish Recipes (including salmon, cod, haddock, tuna)
This recipe can be made not only without little effort, but very cheaply as well. Instead of fresh salmon, you'll be using canned salmon which I've found is best bought in bulk from Amazon or Costco. I can imagine this dish being a show stopper side dish at Thanksgiving or Christmas, and one I'm definitely going to use to surprise my family. Instead of the flour, I use gluten-free flour, and I'll look for dairy-free cream of mushroom soup. But, those are just my personal preferences, go ahead and make this recipe as is if you'd like.
My 1-year-old nephew LOVES salmon, so I was ecstatic to find this instant pot salmon recipe I could make from a mom who tested it on her own kids! This only takes 10 minutes and is a quick way to get dinner on the table when you have little to no time to stand in the kitchen.
Whatever fish you choose for this recipe (cod, haddock, tilapia are all great choices), and whatever herb you may prefer (this recipe uses rosemary), you'll end up with a winner, winner, fish 'n tomatoes dinner. Oh! This is a tasty companion to a fresh from the bakery baguette.
Tuna casserole is a classic dish most of us grew up with as children, I know I did! I loved it when I got home from school and asked that question most kids do as they walk in the door, "What's for dinner?" and heard it's tuna casserole. This recipe is a classic that is as creamy as you remember from your own childhood. Instead of the chicken stock, I simply use vegetable stock and I like to add in a selection of my favourite veggies like peas, zucchini, carrots, celery, mushrooms, asparagus or broccoli.
Fresh dill, cucumber, scallions, shallots, and salmon… if the thought of those flavours mashing together don't get your taste buds going, then I don't know how I can help you! One of the quicker meals (as far as slow cooking goes), this recipe takes only 1 hour from start to finish, so it's great for throwing on as you get home from work, and by the time you've had a shower and winded down, your meal will be ready.
Fish tacos are what I consider a pescatarian staple. Nothing is easier to whip up and easier to satisfy the masses, no matter how many people you have over… or hey, maybe you'll get lucky and have all the tacos to yourself. This recipe uses cod which is just right for pulling apart and topping with a range of your favourite toppings.
Decadent, creamy, aromatic; when company comes over, this is a recipe that will surely delight all around the table. But I'm not just saving this recipe for company! When you feel like the warmth of curry and happen to have some salmon and a slow cooker, why not make it a weeknight meal? I know I will!
Warming spices in this Moroccan inspired slow cooker fish dish will satisfy you on the coldest of days in the middle of winter. What I like about this recipe is that it is super adaptable, meaning you could use any combination of warming spices, and any fish, and you'll end up with something you'll love. Have a nice big 'ol salad and some baked potatoes with it to complete your meal.
Take a trip down south… way down to South America in fact all the way to Brazil to enjoy the tantalizing mouthgasms from this fish stew. The recipe calls for tilapia, but really, any white fish will do (cod or haddock for example). You wouldn't even go wrong using shrimp in this dish for example! Even if you aren't a stew kinda person, I'd urge you to give this one a try before giving up on them all together.
Seafood Crock Pot Recipes (including shrimp, clams, mussels)
Stuffed with colourful veggies including asparagus, cabbage, and tomato, this crockpot meal looks simply scrumptious, doesn't it? It's also got a sauce that's to-die-for, just be aware if you don't eat dairy like me, simply substitute the heavy cream for coconut milk and it works just as well. Be sure to sop up the deliciousness with your favourite crunchy on the outside, soft on the inside bread.
Who doesn't love seafood chowder? It's so hearty and warming, and hits all the right spots. This recipe contains all the chowder staples like shrimp, clams, corn, and potatoes. But, that doesn't mean you can't adapt it super easily too. Me for example, I don't use evaporated milk, but rather coconut milk. You could also use hemp, cashew, or almond milk. Just try to avoid the sweetened versions. Also, since we are pescatarian around these here parts, I substitute chicken stock with veggie stock.
Inspired by Meditteranean cuisine, with fresh lemons, dill, and extra virgin olive oil, this stew takes only 20 minutes… yes, 20 minutes! Make it in the fall or winter to warm up, or enjoy the burst of lively flavours in this dish in the warmer spring or summer months. It calls for half a cup of white wine, so if you're like me, you'll be happy you have plenty left in the bottle to sip on!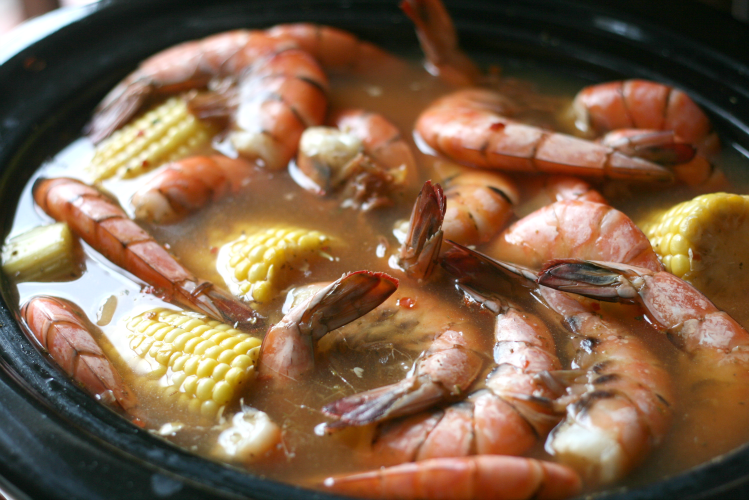 No pescatarian crockpot recipe list is complete without a low country boil! What is a country boil exactly you may ask? It's one of those meals you get to dump on top of the table (after laying down newspaper of course) and dig in using your God-given utensils… your hands! I don't know about you, but I love a meal I can wholeheartedly enjoy without worrying about how I look eating it or stressing over whether I'm using the right cutlery! This recipe does call for sausage, but you can leave it out as I do. Just make sure you have a good cajun dip at the ready so you don't miss out on any flavour!
If you're feeling like something indulgent, then this is the slow cooker recipe you're going to want to pay attention to. Imagine that moment you bring your spoon to your mouth and you see a nice big chunk of crab waiting for you. You're probably salivating right now, aren't you? Then trust me, you're not going to want to miss out on this recipe. A few things I change is to replace the cream with coconut milk and if I can't find good fish stock, I'll simply use veggie stock.
Only going into the pot in the last 15 minutes, the mussels are really upstaged by the star of this recipe which is the slow simmering (8 hours in fact) tomato and fennel sauce. I like mussels by themselves and find them quite filling, but you can also use this as a side dish if you so wish!
This is the kind of slow cooker shrimp recipe that will please almost everyone. Toss together a salad, and make some fresh homemade fries and you've got yourself a dinner you'll be repeating week after week. I'm a big fan of finger foods, and these little bbq shrimp certainly fit the mold and go down well no matter what time of year it is.
Sometimes I like giving my tastebuds a kick… in the form of spicy flavours! That's why these chili mussels cooked in a slow cooker are the best. The amount of spice is completely up to you of course, but for me I like to pile it on. Give it a go and see how spicy you can handle it.
Veggie Recipes (including beans, lasagna, soup)
Garam Masala, cocoa, and caramelized onions are all it took for me to buy into this recipe. Seriously, a bean stew doesn't have to be boring or lackluster, especially when you come across something as hearty and pleasantly different like this one. It makes a lot, and since I only cook for two, we end up having loads leftover to freeze for those nights when neither of us feels like cooking. I don't add the cheese on top, but that doesn't mean you can't!
Absolutely filled to the brim with colourful veggies, this curry is the perfect meal to hit your veggie quota for the day. Chickpeas offer the protein source and "meat" of the meal. Feel free to substitute for white beans, and use whatever veggies you happen to have at home right now. You can't go wrong. Follow the recipe though and you'll get a whole 'lotta right.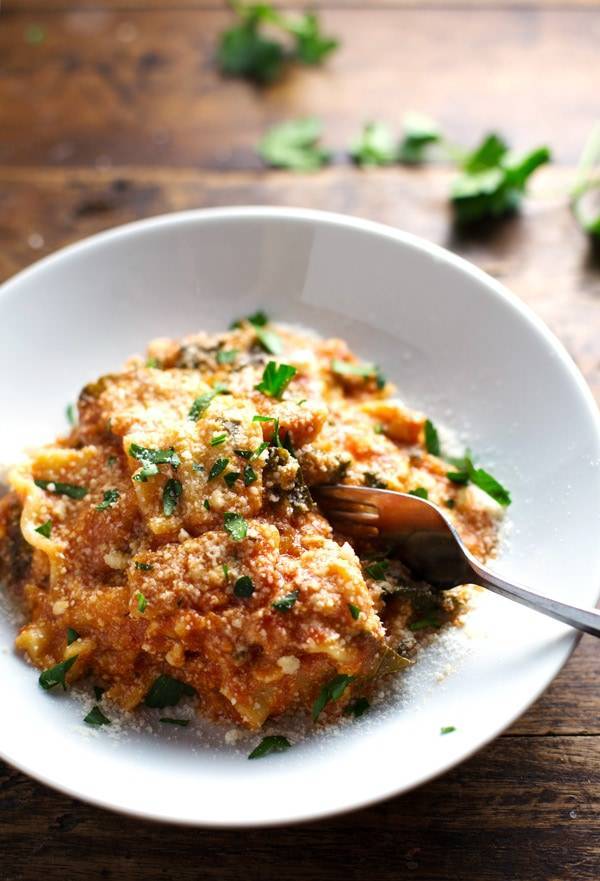 Lasagna in a crockpot? Yepp, it's possible. It's not the prettiest (not that that matters anyway), but oh man does it taste good. As with all the other recipes on my list that involve dairy, I usually just substitute with either goat's cheese/milk or dairy-free cheese/milk. I like to enjoy a nice fresh, crispy salad next to my layered stack of veggie lasagna. But you do you, have it alongside whatever floats your boat!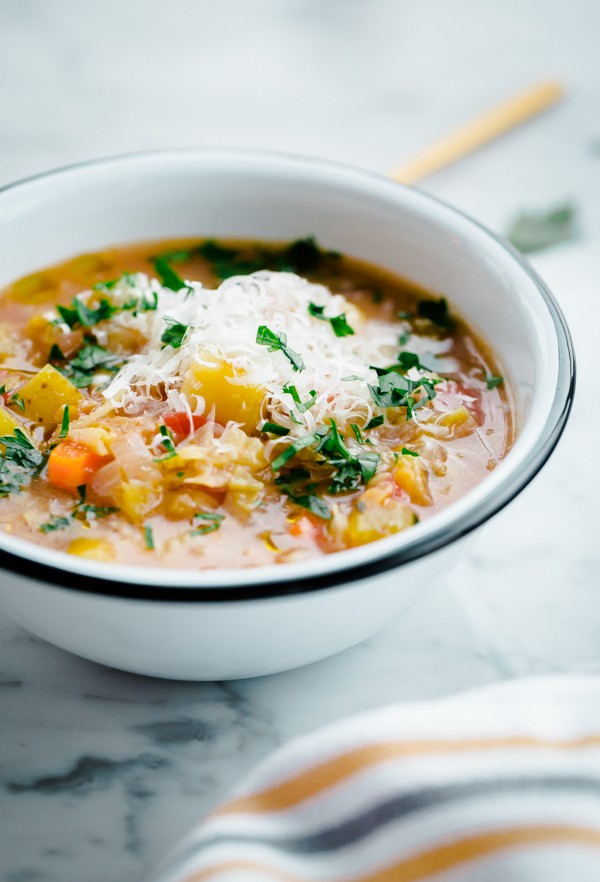 When I think about the saying "bang for your buck" I immediately think about lentils. In terms of food anyway. Seriously, lentils are SO cheap and easy to buy in bulk that you could be swimming in them. But I'd advise against that. Instead, use your abundance of lentils to make this cozy winter vegetable soup with split red lentils!
There you have it! My list of 21 delicious pescatarian crock pot meals. Like I mentioned before, I'll likely be updating this list often as I find and try more recipes.
By the way, this post does include affiliate links (ex the crock pot links below) which simply means if you end up buying we get a (very) small commission from Amazon which you'll be happy to know goes straight back into us creating awesome pescatarian resources for you like our pescatarian meal plan AND keeping this site 100% ad-free!
Again, here are those links to the best-rated crockpots on Amazon if you need to get one:
Join The Convo!